Flagship 2 Open Session: Towards Educational Pathways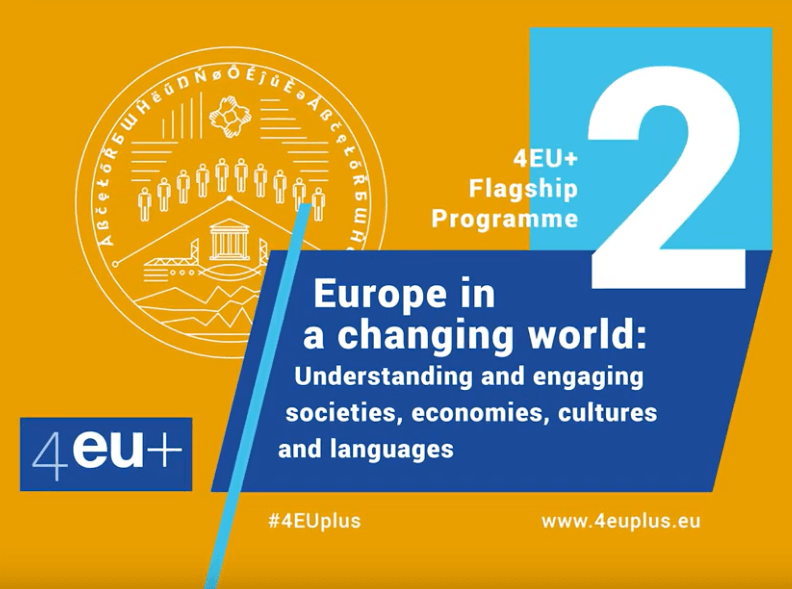 Are you an academic teacher in the fields of the humanities or social sciences? If you:
already cooperate with the 4EU+ Alliance or

are interested in starting the cooperation,
we would like to invite you to join the open online session that will explain and bring the idea of Flagship 2 flexible learning pathways closer to you. You will find out how to get involved in creating the educational offer of the 4EU+ Alliance.
Students and PhD candidates who have already participated in Flagship 2 activities or who are interested in sharing their ideas on the topic are most welcome to attend the session as well.
Flagship 2 brings together scholars from various disciplines in the field of the humanities, to provide a comprehensive understanding of the concept of Europeanness. The Flagship aims to provide students with the essential transversal skills defined by the 4EU+ Alliance (multilingualism, data literacy, critical thinking, entrepreneurship, and social engagement), as well as discipline-specific skills needed to advance research in the Humanities with respect to the study of Europeanness in all its different aspects.
Three educational pathways have been selected as the general themes and common denominators of the Flagship:
Multilingualism,

European citizenship,

European Pluralities.
During the session, we will explain:
what characterizes the pathways and what are their objectives?

how can you participate in the development of the pathways through classes and courses offered to students of the Alliance?

how to use the results of your research for the creation of courses within Flagship 2?
When? Wednesday, 26 January 2022, 1-3 PM
Where? Online, via ZOOM (please note: you will receive a link to the meeting only after submitting a registration form! Link will be sent to all registered participants on 24 January)
How to register? Please submit your application via the online registration form: https://forms.gle/DkAFfhsTkoioGTe2A
Deadline: apply by Sunday, 23 January 2022
Agenda
Introduction: Flagship 2 and educational pathways (Prof. Anna Wojtyś, Flagship 2 Leader)

Course requirements (Marta Jaworska-Oknińska, PhD, Project Officer)

Discussions in breakout rooms with coordinators of three educational pathways:

Pathway: Multilingualism (Prof. Vahram Atayan)

Pathway: European Citizenship (Prof. Angela Lupone, Zuzana Kasakova, PhD)

Pathway: European Pluralities (Prof. Agata Bareja-Starzyńska, Nicolas Maslowski, PhD)
Watch the introductory video to learn more about Flagship 2: