Free COVID-19 and influenza vaccines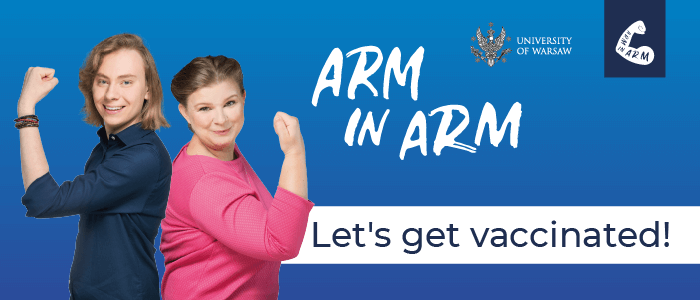 COVID-19
Please be advised that all employees and students of the University of Warsaw (including foreigners) interested in a third, booster dose or simply vaccination against COVID-19 can get vaccinated in Centremed facilities at the university (Warsaw: ul. Waryńskiego 10a, ul. Mochnackiego 10, ul. Krakowskie Przedmieście 24/26).
There are various types of vaccines to choose from and convenient, short vaccination times.
To sign up, call 22 592 48 54. Centermed employees will call you back and arrange an appointment for a specific date and place (note, we know from the information obtained at the Center that the message you hear is being changed. about patients over 50 years of age, but – in accordance with applicable regulations – vaccinations are available to all adults).
Vaccinations are free.
---
Flu vaccines
In the season 2021/2022, free flu vaccines, in accordance with the Regulation of the Minister of Health of August 27, 2021 on methods of preventing seasonal influenza in the season 2021/2022, include, among others:
academic teachers and other persons conducting classes with students or doctoral students,

and

other people employed at the university.
More information can be found at:
You do not need to ask your doctor for a vaccine prescription or make an appointment at a clinic.
It is enough to go to one of the vaccination points indicated on the map in the link below and arrange the date of vaccination.
https://pacjent.gov.pl/aktualnosc/szczepienia-na-grype  (at the bottom of the page).