Renewal of the doctorate of prof. Ewa Wipszycka-Bravo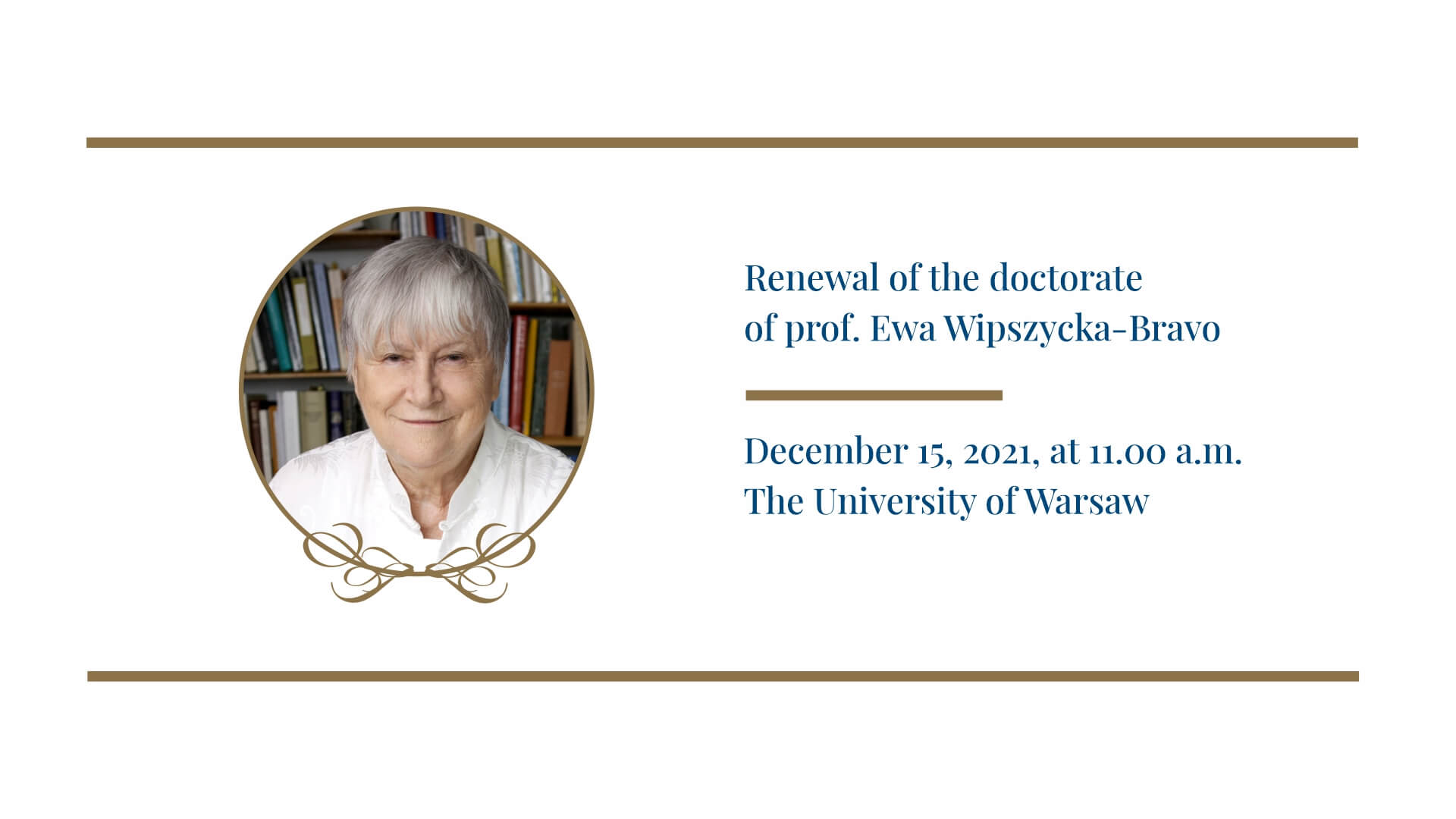 On December 15, 2021 at 11:00 a.m. in the Senate Room of the Kazimierzowski Palace there will be a ceremony of renewing the doctorate of prof. Ewa Wipszycka-Bravo.
The program of the event includes the laudation of prof. Adam Ziółkowski, speech by the Dean of the Faculty of History, prof. Łukasz Niesiołowski-Spanó, presentation of the diploma and finally the speech of prof. Ewa Wipszycka-Bravo. The ceremony will be graced by the performance of the University Choir of the University of Warsaw.
Due to covid restrictions, admission to the ceremony by invitation only.
The celebration will be broadcast online
---
Prof. Ewa Wipszycka-Bravo is one of the most outstanding Polish historians of antiquity and papyrology. Her scientific interests cover many sections of ancient history, from the Ancient East to the era of the decline of the Roman Empire and the formation of the Byzantine Empire.
She is the author and co-author of not only classic scientific monographs, but also academic textbooks, school textbooks, and popularizing books and articles, as well as numerous reviews.
Prof. Ewa Wipszycka-Bravo obtained her master's degree in 1955 at the Faculty of History of the University of Warsaw. In 1962, she received a doctoral degree, and in 1972 a postdoctoral degree. Since 1990, he has been a professor of humanities. In 2012, she won the "Polish Nobel Prize" – the Foundation for Polish Science award in the field of humanities and social sciences for "comprehensive reconstruction of the functioning of monastic communities in late ancient Egypt".
January 22, 2020 The Senate of the University of Warsaw, after hearing the reviews of prof. Roger Bagnall of the University of New York; prof. Jean Gascou from the Sorbonne University and prof. Maciej Salamon from the Pontifical University of John Paul II, regarding the achievements of prof. Ewa Wipszycka-Bravo, decided to renew her doctorate on the occasion of the 50th anniversary of obtaining her doctorate.